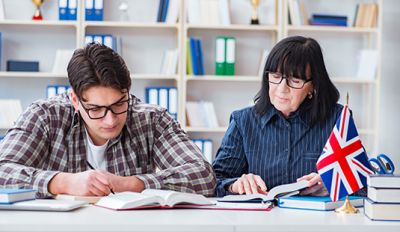 INTRODUCTION
In 2019, more than 30% of our services were delivered in K-12 educational settings. We have strong long-standing relationships with Interpreters who have experience with classroom educational interpretation, and in a variety of content subject areas.
Language translation is crucial when it comes to offering equal opportunity for students at all levels of their education. Whether your institution is public or private, TB Alliance understands the specific translation needs of educators and students. With experts translating in over 250 languages and American Sign Language, we can help you meet Title IV guidelines for all students and their parents.
TB Alliance can be a one-stop solution for your language services needs. Our versatility in offering a full suite of services assures our clients that they need not look elsewhere for assistance with language service requests.
Our team of Account and Project Managers can help guide all assignments to a successful completion.
Translator Sourcing
We recruit new translators through referrals, the American Translators Association, international language organizations, inbound requests, outbound inquiries, and through industry conferences and events.
Translator Qualifications and Certifications
When you commit to a project, you do so with the confidence that the translator assigned has been admitted via a thorough and comprehensive recruitment process. Linguists can be validated with background checks and pre-screened to confirm their language proficiency, education, work experience and professional certifications and associations.
As members of the American Translators Association (ATA), the Society for Editing, and other industry organizations, we are committed to following the policies and procedures of these organizations.
Linguistic Vetting Process
Our Translation Production Team considers many factors in approving and monitoring our linguistic teams. These include:
Native speakers of the target language

Years of experience translating or interpreting

Expertise or experience in a subject matter

Educational degrees

Professional experiences

Certifications

How they learned their non-native languages

Current and past residencies

Understanding of grammar and general writing skills

Computer skill
Native Linguists
Our linguists only translate into their mother-tongue, so they have natural ability in the target language, capturing colloquialisms and cultural nuances. Consequently, our translators are sensitive to cultural differences, and ensure consistency in terminology, syntax, and style.
Project Management & Coordination
Account Manager / Single Point of Contact
You will be assigned an Account Manager who will be your single point of contact for any enquiries and will provide quotes and project status updates. The AM will be supported by a colleague who will be familiar with your project. You will also be provided with an escalation point of contact.
Current Clients
Currently, New Language Partners clients include the Department of Education for the New York City school system, Hunter College, and others. We have extensive individual relationships with both K-12 and colleges & universities, working for professors and with disability services offices.
Our Experience
TB Alliance and its affiliates have been in business since 1987.
Our team of client service specialists, account and project managers, linguists and senior team leaders provide accurate, culturally sensitive, and affordable services that reduce language barriers and improve communication across cultures. With over 100 years of industry experience our team is committed to service delivery excellence.
Give us a chance on a sample test project and let us earn your trust!
Contact Us
Need help figuring out what kind of translation work you need? Want more information about specific contracted services? Call us.
Monday-Friday, 9am to 5pm ET. 1.877.512.1195
Conclusion

Our motto - "Reliable. Ethical. Just Plain Nice." - underscores the way we go about our mission.
We recognize that by always delivering exceptional service for our customers we earn loyalty, respect and advocates for our business.
If you have language service requirements or any other questions relating to our capabilities or reputation, please contact us. We would welcome the opportunity to provide a quotation for your upcoming projects.

Thank you for your time and we look forward to working together in the near future.
Contact us
7815 N Dale Mabry Hwy
Tampa, FL 33614

US: 1.877.512.1195
Intl: 1.615.866.5542
Newsletter
Sign up for our monthly newsletter!