One Company
Human Resource professionals and other managers across the corporate world are in need of various eLearning language services to make their training content compliant and reachable to a wider audience. With the rise of work from home offices, accessibility and speed to launch are a priority.
We're able to create a "mix-and-match" quote for your specific language needs to flow on top of your process, working with your managers and content creators to your deadlines.
Have one project or 10? Need three in one month or one within six months? Need translation in three languages for one video and eight for another? We have that depth and breadth within our capacity.
All By One Vendor
Translation, Transcription, Voice-Work, and Interpretation: All by one vendor.
eLearning course translation: Video files and accompanying collateral
Translation reintegration and course rebuilding, including testing on desktop, mobile, and any other device
Video, Audio and animation, Voice-over and subtitling
Open and closed captioning
Translation of computer based testing (CBT), qualifications and other course materials
Direct input with your chosen Learning Management Systems (LMS) and software localization
Website / Client portal localization
Transcreation for marketing and sales materials
Transcription for audio or video files
ASL interpretation for curriculum content or live meetings and events
One Contact
Every company is going to have a different workflow and process, as well as a different collection of formats, platforms, and files.
Working from your quote, we'll begin your on-boarding. Your assigned Alliance eLearning Program Production Manager will gather all contact information and format needs, reaching out to our in-house and partner teams to pull each of your identified pieces together, assigning priorities as they go.
We will work collaboratively using Asana or your own dashboard to keep you apprised of deadlines and deliverables.
eLearning Content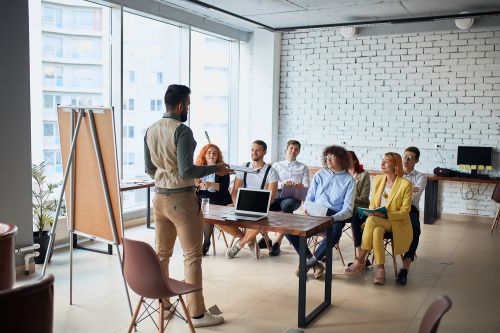 TB Alliance provides translation and localization for the eLearning sector working with eLearning content companies, learning technology companies and internal Learning and Development (L & D) departments.
We provide end-to-end localization services:
eLearning course translation.

Translation reintegration, course rebuilding and testing (any device).

Video, audio and animation voice-over and subtitling.

Translation of computer-based testing qualifications, and other course materials.

LMS and Software localization.

Website / Client portal localization.

Transcreation of marketing and sales materials.

Transcription for audio and visual.
Our Translation and Desktop Publishing (DTP) teams offer:
5,000 TB Alliance certified linguists specializing in over 250 language combinations.

Sector specialization in addition to linguistic expertise.

A focus on consistency using terminology databases and translation memory tools.

Translation and editing of original graphics files prior to DTP work.

Full linguistic review post translation and DTP work, to include expansion and contraction checks and ensuring all content is in the correct place.
Native Linguists
Our linguists only translate into their mother-tongue, so they have natural ability in the target language, capturing colloquialisms and cultural nuances. Consequently, our translators are sensitive to cultural differences, and ensure consistency in terminology, syntax, and style.
Our Voice-Over and Subtitling experts ensure:
Correct timing to ensure translation corresponds to the original video.

Translated content aligns with the limited space on screen.

Subtitles move at the speed of the dialogue.

Corresponding text for multiple speakers is visible as people are speaking.
TRANSLATION MEMORY FAQs
We use a variety of Computer-Assisted-Translation (CAT) tools as part of our project workflows. As a means
to create consistency in translation and to avoid duplications in content Translation Memory also enables
faster turnaround times, improved quality of translation and, if translating large amounts of content,
creates significant cost-savings
What exactly is Translation Memory and how does it work?
The Simple Answer: Every sentence translated for a client is then stored in a database designated solely for that client for future use.
General Overview of Translation Memory
For any organization most company documents, including reports, presentations, plans, marketing collateral and webpages, will contain some content that is phrased in the same way. These segments of content can be blocks, paragraphs, sentences, or phrases. If the same or similar text, from a previous translation, appears in another document, the software alerts the translator who can then insert pre-existing translations from the memory into your document, review in-context and edit, if necessary.
Term Bases / Glossaries
A glossary of terms relevant to your industry, company, product, client, or subject matter can help maintain the consistency and efficacy of your content when translated into multiple languages. You can create multiple glossaries, each relevant to a particular business function. These can be incorporated into a comprehensive Term Base with proper classifications and descriptors from which to extract separate glossaries when needed.
As your language partner we will work with you to compile a Term Base, in advance of starting a translation project, and commit to updating existing entries, adding new ones that emerge during translation, and removing obsolete entries.Term Bases can be created from a spreadsheet that we can then import into our translation management system.
Results of Employing Translation Memory
Improved Consistency of Translations
A direct result of the use of Translation Memory
Reduction in turnaround time
Linguists do not need to re-translate repeated sentences or paragraphs.
Cost Savings
Repeated text is only charged at third of the normal price. Translators will still check the context of repeated text.
Order/Workflow Process
Quote Request

Client Services or Account Manager provides a quote

Client Confirms

Project Manager assigns a linguist

Linguist completes the project

2nd Linguist or Project Manager proofreads the document

Final QA

Delivery of document
Project Management & Coordination
Account Manager / Single Point of Contact
You will be assigned an Account Manager who will be your single point of contact for any enquiries and will provide quotes and project status updates. The AM will be supported by a colleague who will be familiar with your project. You will also be provided with an escalation point of contact.
Our Experience
TB Alliance and its affiliates have been in business since 1987.
Our team of client service specialists, account and project managers, linguists and senior team leaders provide accurate, culturally sensitive, and affordable services that reduce language barriers and improve communication across cultures. With over 100 years of industry experience our team is committed to service delivery excellence.
Give us a chance on a sample test project and let us earn your trust!
Contact Us
Need help figuring out what kind of translation work you need? Want more information about specific contracted services? Call us.
Monday-Friday, 9am to 5pm ET. 1.877.512.1195
Conclusion

Our motto - "Reliable. Ethical. Just Plain Nice." - underscores the way we go about our mission.
We recognize that by always delivering exceptional service for our customers we earn loyalty, respect and advocates for our business.
If you have language service requirements or any other questions relating to our capabilities or reputation, please contact us. We would welcome the opportunity to provide a quotation for your upcoming projects.

Thank you for your time and we look forward to working together in the near future.
Contact us
7815 N Dale Mabry Hwy
Tampa, FL 33614

US: 1.877.512.1195
Intl: 1.615.866.5542
Newsletter
Sign up for our monthly newsletter!